Bored with a mid-length cut? Be inspired by Meg's versatile look
Suits: Oval face shapes work best. If your face is round, then adding height around the crown will give the illusion of a slimmer face.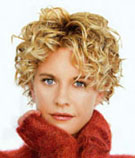 To achive Meg's look, run your fingers through the lengths after drying to give more fullness around the jawline. "To get the most out of this look you need to keep movement in the hair – don't overload it with product, just use a small amount of serum for moveable shine.



Make Over has focused on the problems of Judy
who has been worried about her very thin hair.
We invited Judy to the Make Over's studio where
she told she's steadily changing the new shampoos and balsams but she can't reach the desired effects.
In the little photo - that had been taken before she came to the studio - can be seen well that her hair
is overloaded and exhausted. What is more women who has blonde hair seem to be tired and pale if
they don't care of colours.
'But it does not matter anymore. Judy together with the
Make Over solve these problems.

The Make Over advised Judy to not use 2 in 1 shampoos. A girl who has thin hair should smear balsam only on the tip of her hair. Too much balsam can cause oily hair soon.

We advises using a straightening balm "This will stop any fuzzy or flyaway bits sticking out. Blow-dry using a round bristle brush, holding the dryer down the hair to make the cuticles lie flat. Once the hair is dry, use tongs or Velcro rollers to add the waves. Tongs will get the best effect – don't wrap your hair round them, just hold a small section of your hair in the tong and alternate the direction each time. Finish off with a blast
of hairspray and finally some shine spray."


Judy is satisfied with the final result made
by Make Over and she
feels like something more
for her own success with Pro Image.

To change for a day in the interest of a good job or a date. It's possible with the project of Make Over.
Make Over is a very important part of the programme Pro Image that was worked out in great details by NBC Models for everybody who wants to be successful in the century of the visual communication.
In our everyday contacts the non-words communications (clothing, body-language, make-up etc.) makes the 70-80% of the communication, so the words nowdays are only messages.
NBC
Pro Image
helps you to make a new image in harmony with your personal endowments.