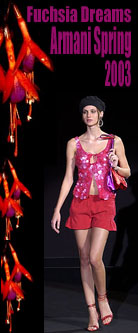 For Nighttime
Armani turned to sheer, black, mesh bush vests sprinkled with diamanté; then he closed with sparkly, swingy dresses in hot fuchsia and red.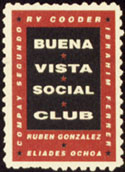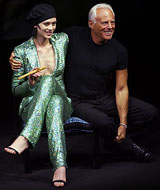 Emporio Armani may be the younger, second line in the universe of Giorgio Armani, but that doesn't mean its presentation gets short shrift from the designer. He shepherds his audience to his monumental, gray Tadao Ando–designed auditorium, closes the vast iron doors behind them, and lifts the curtain on a lavish theatrical production that springs from his fantasy.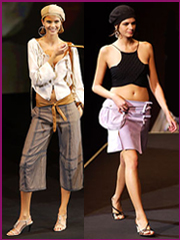 This time the script was a Cuban-flavored travelogue, played out by models in berets, some flicking unlit Havana cigars. They roamed a central stage, while behind them a huge screen showed a film of two Armani-clad gamines at play. The clothes picked up on the urban-revolutionary theme but translated in a light, sunshiny Italian way. The season's military trend was filtered into bombers, parkas and combat pants in aquas, teals and dusty browns, done in floppy, breezy fabrics
for nonaggressive civilians.

Armani continued the motif of the gathered-ankle pant from his main line's collection last season via cropped combat trousers, and he used drawstrings to give interest to jackets and tops.