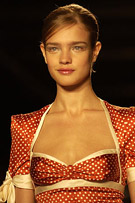 Dots will come to fashion in Spring. These enchanting pattern was the most important detail at The Donna Karan Fashion Show in September.

We can be glad of it because dots have been forgotten undeservedly. Spring will be funny and pretty with them.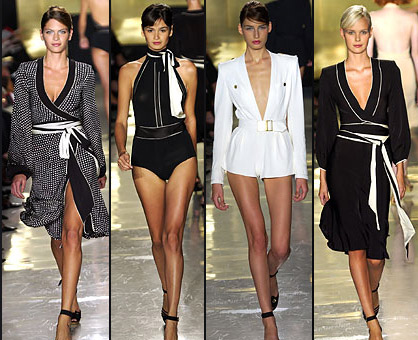 After several seasons spent voyaging inward, Donna Karan
is clearly in the mood to go out and get down. Her New Age
woman has left the ashram and is now on the hunt for a
cold beer and some hot jazz.

Karan opened with a series of very businesslike jackets and coats whose built-up shoulders, brass buttons and stitching details recalled the exaggerated power-woman suits of the '40s. But she quickly softened the mood with pretty jersey wrap dresses bound with generous sashes and knee-length skirts that either hugged the body or swirled out in circles. While most of the collection stuck to black, cream, navy and nude, Karan threw in some bold prints and bright colors—she even called one her "celebration print"—to spice things up. Her eyelet pieces, in poppy red or blue on a cream background, were perfect for spring.

Karan's customer is bound to be tired after a day in the boardroom and a night at the club, but this is not a woman who wears sweats around the house. She'll wrap herself up in the sweeping black-and-white satin kimono that the designer used to close the show, before she drifts off to dream of the next day's festivities.



From Donna Karan
A warm and intimate fragrance that indulges the senses with an infusion of natural treasures from around the world. Exotic yet familiar, Black Cashmere wraps a woman in notes of Saffron, Patchouli Singapour, Red Marechal Rose, Clove, White Pepper, and African Wengue Wood.
Once you experience Black Cashmere, it's hard to wear anything else.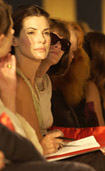 The starguest of this fashion show was Sandra Bullock, who can't resist the new collection of Donna Karan.