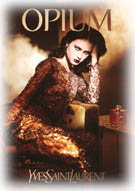 Introduced in 1977 by French designer Yves St. Laurent, this oriental fragrance is smoldering and dramatic. This unique oriental fragrance has notes of plum, hesperides, clove, coriander, pepper, jasmine, rose, carnation, sandalwood, vetiver, myrrh, opopanax, amber, incense, musk , and patchouli. The oriental influence is evident in the packaging. The fragrance is held in a glass vial, enclosed in a red plastic container. The design was inspired by ancient Japanese lacquered cases that were worn under kimonos, on silken cords, that held aromatic herbs, perfumes and medicines. This fragrance goes well with a passionate night.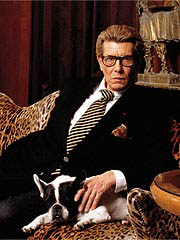 "We live in a world of disorder and decadence. This struggle for elegance and beauty caused me much distress. I no felt part of the world. I felt alone, more alone than ever", said Yves Saint Laurent, a fashion-legend of the world. Thousands crowded the plaza outside the Georges Pompidou Center wanted to know what induced Yves Saint Laurent to declare this appalling opinion. But they never get know it, because Saint Laurent put clothes very well on his reflections.
This event in Paris wasn't a feast. It was a funeral, because the withdrawal of Saint Laurent means the disappearance of several ideas in the world of fashion. Notions like "Ballets Russes", Mondrian dresses and "art dresses" belong to his name. He put women into pants, including for evening, in such a stunning way that fashionable women who couldn't afford haute couture. The sleeveless shifts with black stripes and big colored squares of blue, red or green on a white background inspired by the geometric works of painter Piet Mondrian. From the 70s, there were the romantic"Ballet Russes" dresses, with beaded bolero jackets and toque hats. From the 80s there were the art dresses-inspired by Matisse and Picasso and he put women into sexy tuxedo. Saint Laurent created the Safari look- outfits with wild animal prints.
In Pompidou Center he was gone with famous models and actresses – Catherine Deneuve, Paloma Picasso and Claudia Schiffer. He spoke about the past and the future. While YSL's haute couture is closing, the name will not disappear. In 1999, he sold the rights to his label- including the scent Opium- to the Gucci. Gucci's creative director, Tom Ford, has been in charge of the ready-to-wear collection, fragrances and cosmetics. According to opinions the strained relations between Saint Laurent and Tom Ford is the main cause of the withdrawal. I don't know, but it isn't important. To undress a great designer is indecent. The final substance is: Yves Saint Laurent took French leave.
Deneuve about YSL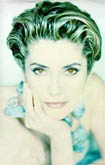 "It is still difficult for me to realize his departure. There is such a long relationship between us through the years... I am feeling a melancholy. Of course he will be always there for me, he will have even more free time.
For him it is positive; he departs at the moment he is on top of his glory, he will most probably live the third part of his life, he will be devoted to other things he likes..
But for women, it is the end of an era. He belongs to the great generation of Chanel, Dior and Balenciaga. The depart of somebody who has loved women so much, who has dressed them with such a talent, will create a great vacuum... "