Choosing the first portfolio-collection is not easy. Here you some ideas.

Blouses are better than closed tops.
Use basic colors like black, white, beige and pastels.
Wear thin textiles and not velvet.

Fashionable things are important. Pay attention to the latest fashion.

Fashion is more and more sexy. A cool bikini or a lingerie is essential piece of your first porfolio-collection.
Saturday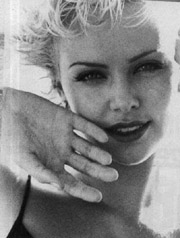 Iíve already disregarded my first meeting at the model agency where I wasnít discovered as a ífantastic new faceí. But I wonít give up. If I draw back from the very first difficulty I wonít be successful in my life. On the other hand this meeting gave me important informations about model work. First of all I need a good portfolio that I saw at the agency everywhere. Of course my allowance will be spent on it, but for a year at most I will have to save on the going to movie. Oh, itís terrible, but íI will survive ití.
My demands:
With a good portfolio I seem to be more serious.
During the photography I can get a lot of useful informations and good friends. (At the agency I saw the photographer Peter, who was very cool.)
These photos will be really good and it will heighten my self-confidence.
Boys adores the models, so I will be more popular.
Next week will be my photography. I have to get the necessary clothes in time. The assistant told me the details and my girlfriend will help me too. There will be a make up-artist who will make my face. It will take about an hour. Iím very excited and I think it will be a real Cinderella-story, so I can hardly wait to do it.

We're always looking for the new faces. We don't care about that if you're a 'green girl'. We're looking for you.

"What is CompCard?" "Do I need one?"
Every model in the word has a CompCard. A CompCard is just a nice printed paper which has a model's photos and basic measurement information plus contact information. A CompCard is like a company's brochure. It is necessary to have, if you are serious about your modeling profession.
As the INTERNET becomes more and more popular and becomes popular in the modeling industry. It is cheaper and better.