Gold shine goes well with Claudia and the current trends. Use gold as an accent. A gilded bag or shoe amps up a black outfit.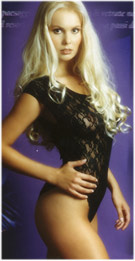 Xmas is the time of
angels like Claudia. She wears his hair simply.
Just makes it curly.


Hang your lights out. It
will show the way to you. Without it angels won't find your window.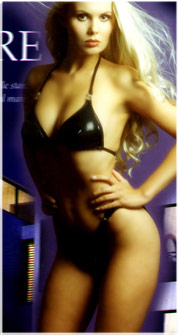 'Thank you so much!' squealed Claudia when she bumped into NBC's Editor.
'I loved my cover!'
So did you. A year ago she was in our magazine and the issue with her as cover girl was the most popular in that year. Proof indeed that in the past year, Claudia has soared into the supermodel stratosphere.
'She is a rare beauty,' says NBC Beauty's cover photographer Michael Page. 'She's incredibly, impossibly glamorous,' adds hairdresser Judy Manson.
We voted for Claudia again. February is a special month with celebrations. Claudia a fantastic-size girl and takes her modeling very seriously and is fed up being 'labelled the blond'. She just wants to do 'amazing pictures'.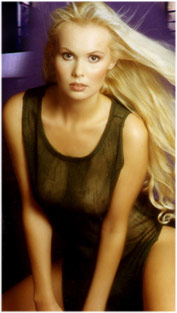 Claudia is truly the model of the moment. She has just come back from Tokyo and she won't stay long. Her December is about work, because the various magazines need her beauty. She looks angel-like and Christmas is about similar things. Her next work will be in London and after a little break she'll go to Paris to display fashion creations for the New Year.
She is never tired. 'I have always felt happy with the idea of working hard to get where I want to go- I'm an ambitious kind of person. I feel that I am traveling in the right direction and at the right speed. How many people can say that?'
What to expect from the New Year:
'Sun, successful work and New York. I've already seen London, Paris, Milan and Tokyo, but I haven't seen yet New York. So at the New Year's Eve I will wish it. I hope an angel fulfills my dream.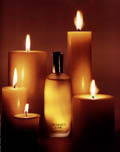 Try a little happiness for the holidays. To spray on. Touch on. Or sprinkle on. Clinique Happy. A hint of citrus. A wealth of flowers. A mix of emotions. Whether you give it, or wear it yourself, now there are even more ways for you to make everybody happy.