Donatella Versace has brought the curtain down on Milan fashion week with a brightly colored
collection of clingy suits and swingy skirts inspired by front row guest U.S. pop pin-up Britney Spears.
"I would definitely wear these clothes. Those hot short miniskirts are just so cute," the 20-year-old star told
Tuesday before Versace showed her spring/summer collections.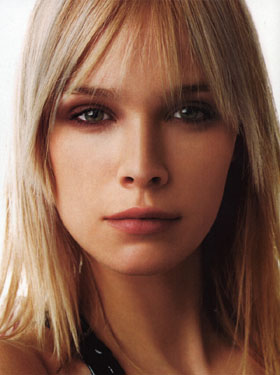 The world of fashion is about fantasy, new trends and new models of course. Dewi Driegen is one of the most popular new model this season. She displays collections from Donna Karan, Ralph Lauren and Marc Jacobs regularly.
The Amsterdam native, Dewi was discovered by an Elite scout during a weekend jaunt to Paris.
Dewi featured in the Balenciaga campaign shot by David Sims, and Emporio A/X's campaign with Max Vadukul.
First show: It hasn't all been smooth sailing, so to speak: "My heel snapped at the rehearsal of my first show in Milan last season. Wow!"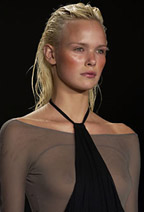 About fashion: As glam as it gets at the shows, Dewi takes it down a few notches during normal life, sticking to "practical stuff like jeans and some cute Marc Jacobs tops. I travel a lot, so I tend to go for comfortable clothes."
Important things: Dewi's priorities are pretty well-defined. "I don't have any time off at the moment, but I always have time to walk my dog." (The fortunate fido is a Scottish terrier named Betty.)
About shoes: "I need both! Heels make me feel feminine, but I'd never wear them crossing the Atlantic. Flats are a must."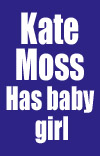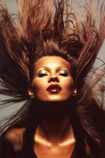 Supermodel Kate Moss is said to be "delighted" after giving birth to a 6lb 8oz baby girl at London's exclusive St John and Elizabeth hospital
on the last day of September.
The 28-year-old model and partner Jefferson Hack have named their daughter Lola.
Mother and daughter are said to be in good health.
Jefferson's father, Douglas, said: "They are delighted about it."
Jefferson said of the new arrival: "It's very exciting."
The birth was confirmed by Kate's modelling agency, Storm.
The model was rushed to hospital on Friday during a lunch at a Greek restaurant with Jefferson, actor Jude Law and his wife Sadie Frost.