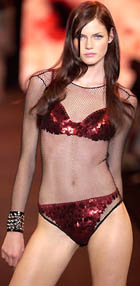 She can be Swedish but when sexy Mini Anden is walking on the catwalk men caught fire.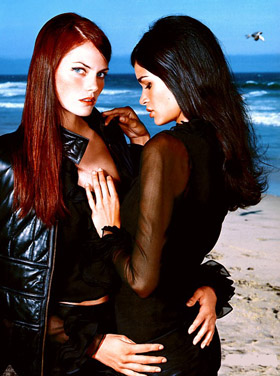 She began modelling at the age of 10 and signed with Elite when she was 15. She became a famous teen model. Since she was still at school, her modelling assignments took place at weekends and during school holidays. Of course, now that she has left school, she is able to model full time. She enjoys travelling and meeting new people, but says that the worst thing about the modelling life is having to be away from home so often. Whenever she can, she spends time in the countryside with family and friends. Mini's best friend is model Missy Rayder.
Her international career took off immediately. Anden has done extensive editorial work for publications including Harper's Bazaar and American Vogue, Italian Vogue and French Vogue. Her most recent advertising campaigns include Calvin Klein Jeans, Gucci,
Hugo Boss and BCBG. Anden has also appeared in fashion shows
in Milan, Paris and New York for such designers as Dior, Chanel, John Galliano, Gucci, Prada and Marc Jacobs.

One of the most 'popular dreams' of a young girl is to be a top model.
But if you want its fulfilment you must do for it. NBC's professional model agency helps you.
High-Fashion
Claudia Schiffer, Kate Moss, Christy Turlington. The most glamorous jobs are reserved for them, including the collections. High Fashion models are generally 5'9" to 6' tall (in USA) and are a very thin size 4-6. They have 32-35" busts, 22-25" waists and 33-36" hips. They have strong and distinctive features. Exotic looks are popular. The majority of High Fashion models live in New York.