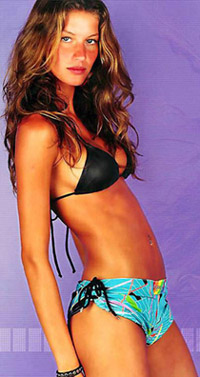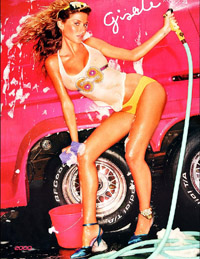 Giséle Bündchen
A Genuine Topmodel
The most famous model agencies like Elite are steadily living in the spell of perfect bodies and beautiful faces. They are looking for something special "spectacle", because the visual hunger of the world is insatiable. Specially when we are talking about Giséle Bündchen.
The hardly smiling topmodel Giséle has been present in the world of fashion since her childhood. The Brazilian beauty with her father leaving the small village Horizontina came to Sao Paolo, where tried to break out from the low standard of living. The young Giséle was looking for the prosperity in the shade of fast-food restaurants, when a modelling agent approached her.
Despite her father's resistance, moved to the city at the age of 14, and she"s lived alone ever since.
The beginning was hard. She had to fight against the anorexic, what is one of the most dangerous trap in the life of a young model. Perhaps the reason she doesn't fall into the anorexic trap is because of the humiliation endured for being so thin as a child. "At school they teased me because I was so thin. I looked like a little mosquito."
But now Giséle can be proud of her body. Nowdays she is called- after Naomi- the "White Panther", who reaches the victims around the catwalk. Of course the most victims say yes. Sometimes she drops them for example Leo.
Lady Bündchen got four covers for Vogue in 1999 as the magazine labeled her their model of the year in the process. One of her latest work was a shooting in New York, where she appeared several collectiones designed by Oscar de la Renta, Donna Karan, Ralph Lauren and Calvin Clein. The photos were taken by the famous photographer Patrick Demarchelier.

One of the most 'popular dreams' of a young girl is to be a top model.
But if you want its fulfilment you must do for it. NBC Models helps you.

High-Fashion
Claudia Schiffer, Kate Moss, Christy Turlington. The most glamorous jobs are reserved for them, including the collections. High Fashion models are generally 5'9" to 6' tall (in USA) and are a very thin size 4-6. They have 32-35" busts, 22-25" waists and 33-36" hips. They have strong and distinctive features. Exotic looks are popular. The majority of High Fashion models live in New York.